What's our story and why would you want to build with us?
You're looking for a camper that takes your breath away in excitement everytime you see it and we're not a big manufacturer looking to give you a cookie cutter layout that you'd be settling for.
When you work with us, you're getting something you are proud to own. Something you're so excited about that you've planned your next 10 adventures in advance.Our small three person shop takes pride in every single nail, screw and board put into your build just as if we were making our own once again.
We're going to help you experience this incredible planet with your closest family and friends and embrace the alternate lifestyle everyone wishes they could. Take control of your own destiny and let us create the ultimate travel vehicle designed to embrace everything that is you!
Sounds like a match made in heaven, you and a Paved to Pines build, doesn't it?
Let us officially introduce ourselves!
Paved to Pines started as an idea between two college roommates and best buds, Mitchell Rosko and Steven Glass.
We met playing college hockey in beautiful British Columbia in a city called Castlegar. The outdoor focused Kootenay region and culture brought on our love of fishing, hiking, camping and everything else outdoors related which inevitably led us to find out about Vanlife and Skoolie conversions.
"How cool would it be if we turned a School Bus into an RV?" was a conversation we often caught ourselves in after drinking a few.... root beers.. in College.
Fast forward one year after College, Paved to Pines Founder, Steven decided to make this a reality so he traded his motorcycle for a 1992 Blue Bird 40 Foot School Bus.
After countless weeknights and weekends building our first Skoolie (the DIY community knows what we're talking about), Judy was finally built and Steven was living the Skoolie life full-time!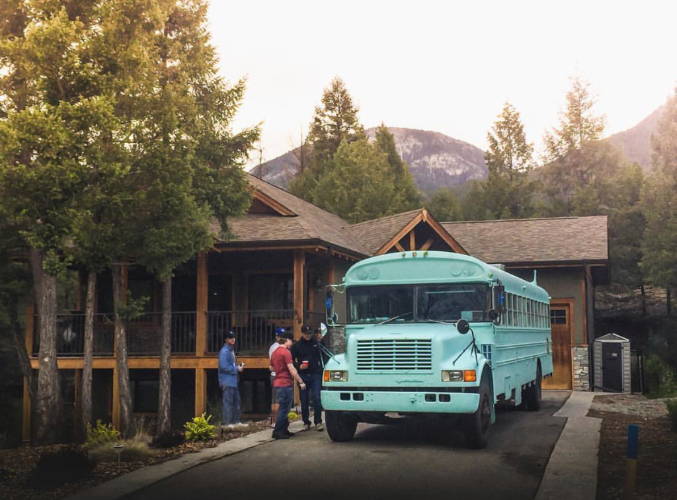 Paved to Pines wasn't anything more than a pipe dream and a blank Facebook page while Steven and Mitchell founded a marketing company.

While Steven was living in his "skoolie" (camperized school bus), it didn't take long for the excitement to build. People started asking him if we could build them a camper from a bus, van, even ambulances.
Before we knew it, we had turned this pipe dream into a reality, working with people like you to make dream builds come true.
We are now a dynamic trio after hiring Cole, an absolute legend. He sings in the shop as much as we do. We hired him after he told he us he played guitar and won a Karaoke league, both are key aspects in our shop culture. On top of singing like an angel, he's basically IKEA with legs, the man can build anything.
Together, our story and dream are to have fun and build you a 4 season camper vehicle that you're going to be proud to show off to your friends and family.
We take pride in our small 3 person shop where we build your custom camper from top to bottom. From small cargo vans to fully off-grid 40-foot skoolies, we take pride in every nail, screw, and the board put into your build.
You're not looking for a cheap plastic interior, with plain teak colors and boring exteriors, that's why you're here, still reading this.
Your dream is camping in the comfort of your own custom home on wheels with your closest friends and family in something you've only dreamt about.
Let's give you the freedom and camper you never realized you could have. Contact us now and let's get this on the road!
Cheers,
The Paved to Pines team.