Calculating Solar Power Needs For Van Conversions & Skoolies
What's the best solar panel for van conversions and skoolies?
Basic Solar Kits (DC ONLY) - Go Powers solar kits are expandable so they can grow with you and your solar needs with easy installation.
Complete Solar (DC) & Inverter (AC) Kits - Go Powers complete Solar Packages integrate with your van conversion or school bus conversion (RVs) electrical system and are as simple as the press of a button once installed.
Other power companies worth looking at are:
- Renogy
- Zamp
- Victron
- Battleborn
- GoalZero
How much SOLAR POWER DO I NEED for my van conversion or skoolie?
First, you need to ask yourself, "what kind of camper am I?"
We've split it into three categories for you to make your decision a little easier.
The Minimalist
The Weekend Warrior
The Full-Timer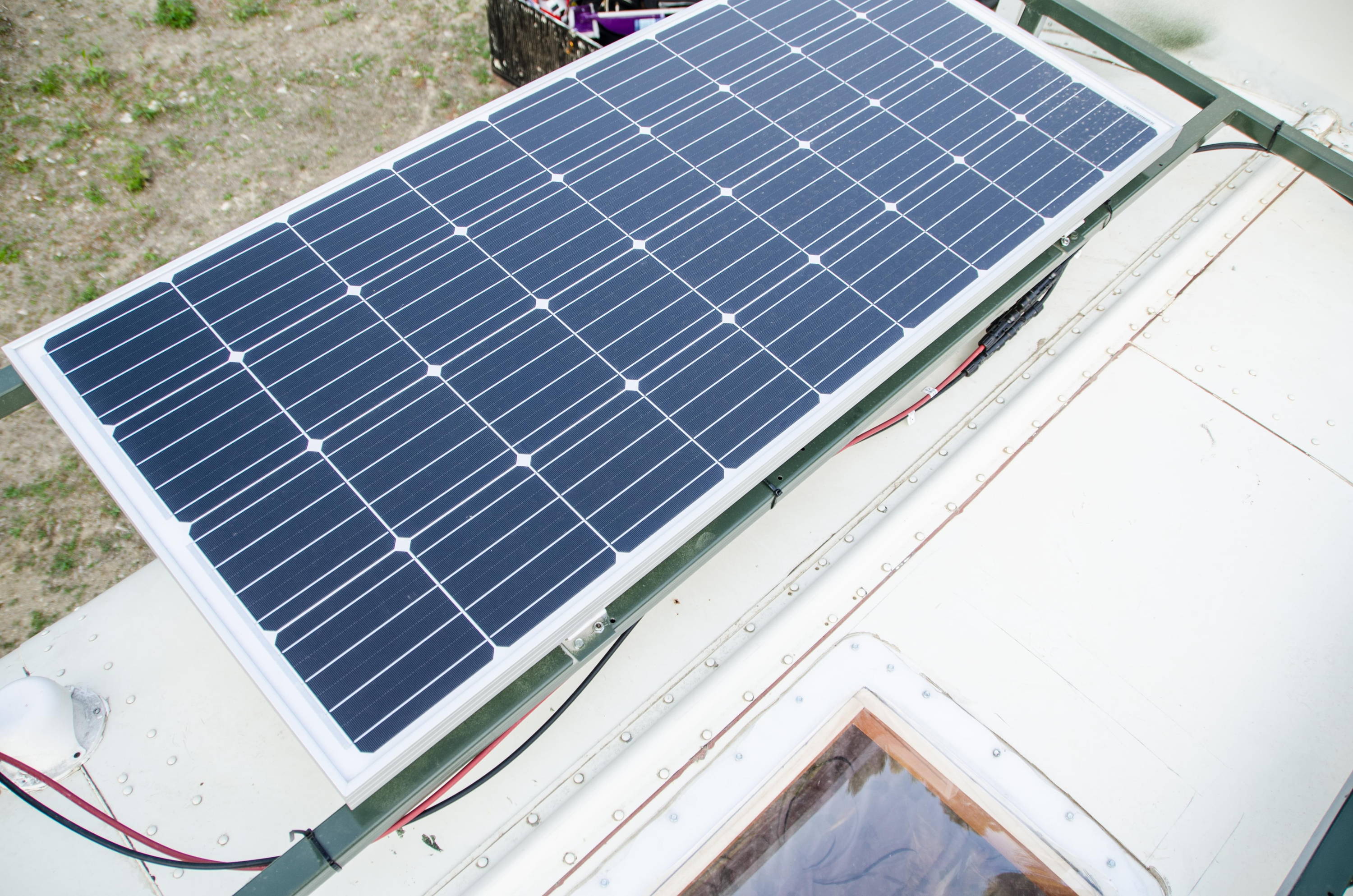 Minimalist
Just the essentials (DC power only)
Your battery will power lights, fans and other DC appliances. (Think of 12v appliances)

This is great if you just need to charge small gear, like phones, cameras, your roof fan, and other small accessories to keep you comfortable while camping.
A small solar panel with 1-2 batteries would suffice, with your small accessories, there would be no need for an inverter or if you did want a small one, a lighter plugin inverter is a cost-effective option.
Low power draw, 1-3 x 100 amp/hr battery bank:
Go Power RETREAT Solar Kit (100 watts) - Perfect for keeping your battery topped up and light 12v usage (small LED lights, phone chargers, fantastic/maxxair roof fans.).

Weekend Warrior




Camping with Comfort (AC/DC Power)



Your Solar and inverter systems provide clean, quiet power enabling you the freedom to camp off-grid with the ability to run TVs, coffee makers and other AC powered devices.
If this is something that sounds more like your camping lifestyle, you'll need a bigger battery bank, a 1500-2000 watt inverter (depending on appliance needs), and a large solar panel kit.
Medium power draw, 2-4 x 100 amp/hr battery bank:
WEEKENDER Solar Kit (170 watts)

ELITE Solar Kit (340 watts)


Full-Timer
Full-time Rv lifestyle with backup power (ac/dc power)
Solar and inverter systems allow for long-term, generator-free RVing with all the comforts of home.
These kits offer a large battery bank that replenishes itself quit quickly dependant on your use. Keep in mind that, no matter what, you will still need to be mindful of turning off your systems and appliances when they're not in use. You can still drain your solar battery bank with a larger system.
High power draw, 4+ x 100 amp/hr battery bank:
ELITE Solar Kit (340 watts)

EXTREME Solar Kit (510 watts)
Wait.. What the hell are AC and DC,
Isn't that a band?
---
Well you are right.... It is a band, a dam good band at that.

BUT, unfortunately, cranking Thunderstruck wont install, charge, or increase your knowledge of your future RV solar power system.
Here's an easy way to understand what you need for van conversion or skoolie Solar power !
Image copyright GoPower Electric gpelectric.com
Need help installing your rv solar kit?
Contact us, and let us know if you have any questions, comments, or need a trained installer to help you with your campervan conversion.
Paved To Pines is a campervan conversion company based out of Saskatchewan, Canada. We specialize in start-to-finish van and skoolie conversion but love helping out the DIY community for tips, tricks, and partial conversions!
If you need some inspiration for your DIY van, check out our van conversion and skoolie gallery.
Or if you are looking for more tips, trick and tutorials for your conversions, check out our journal!
---
6 comments
---
---