The Doghouse is custom converted school bus built for Firefighter, Entrepreneur, & Dog Lover, Christian! He has some incredible plans for the Doghouse including, travel/living, mobile dog rescue, and possibly even wine tours while living the skoolie life!
This is a 38' Thomas Built Converted School bus, custom built with kitchen, living area, bathroom, and queen size bedroom. Our mission was to provide a cozy, functional space, that offered tons of room for everyday life, lots of friends, and of course, the pups!
This unit is equipped with a 200 aH battery bank, 12v & Edison lighting, pumped water, and full RV appliances.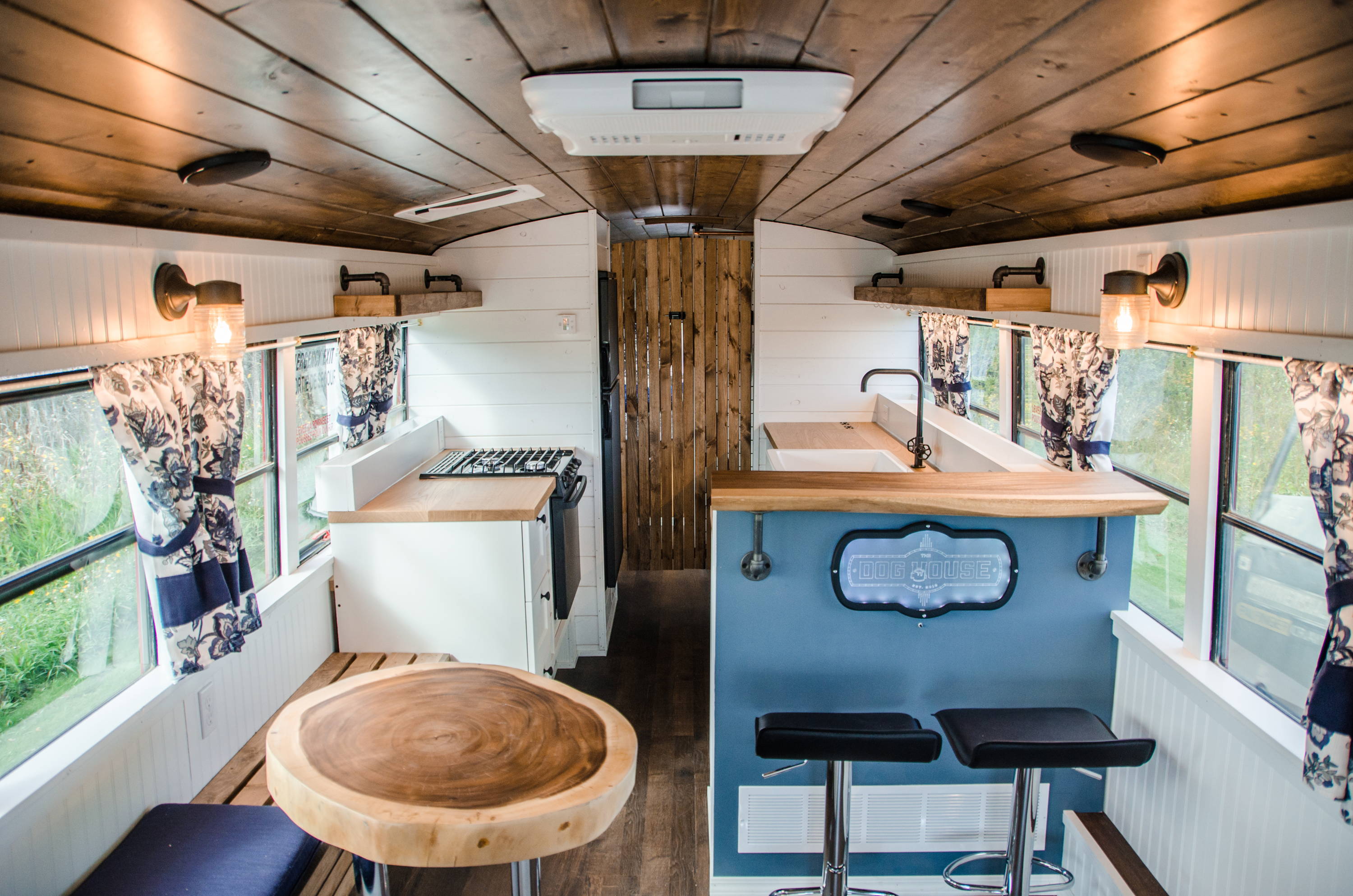 With clean lines and bright walls (slash surround windows), this space offers a beautiful modern feel with a rustic flare. The kitchen layout offers ample storage, featuring a full sink, oven and fridge combo. You wouldn't even think you're in a converted school bus, it truly feels like home!
The Oak butcher block counter tops contrast the white cabinets perfectly!
Our favourite part is definitely the matching Acacia wood dinette table and bar top. Topping the bar off is a custom CNC plexiglass piece highlighting "The Doghouse".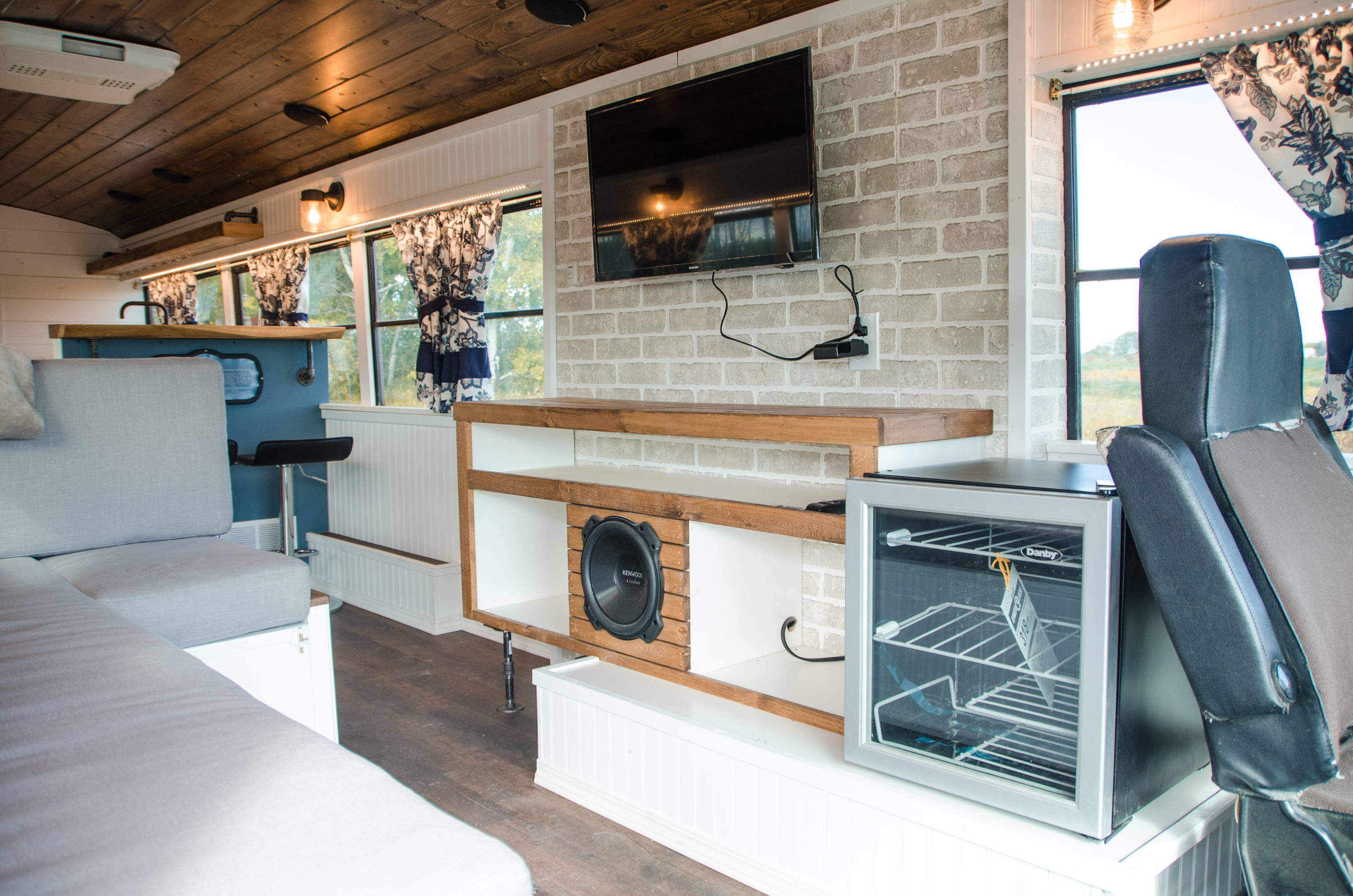 As you enter "The Doghouse", the first thing your eyes land on is the faux brick feature wall and stained pine tongue and groove roof!
The front of the converted school bus seats 3-4 adults on custom cushions, wrapped around the entertainment unit and 32" TV. Can't go wrong with a movie on rainy days!
The place is wired with a full Kenwood surround system with 8 speakers, dual amps, and a 10" built-in sub. Custom curtains, Edison wall sconces, and black iron pipe and the rustic flare.
The dinette offers a great eating nook with tons more seating for potential wine tours! We also get a glimpse of the luxury vinyl planks that tie the floor and roof nicely together.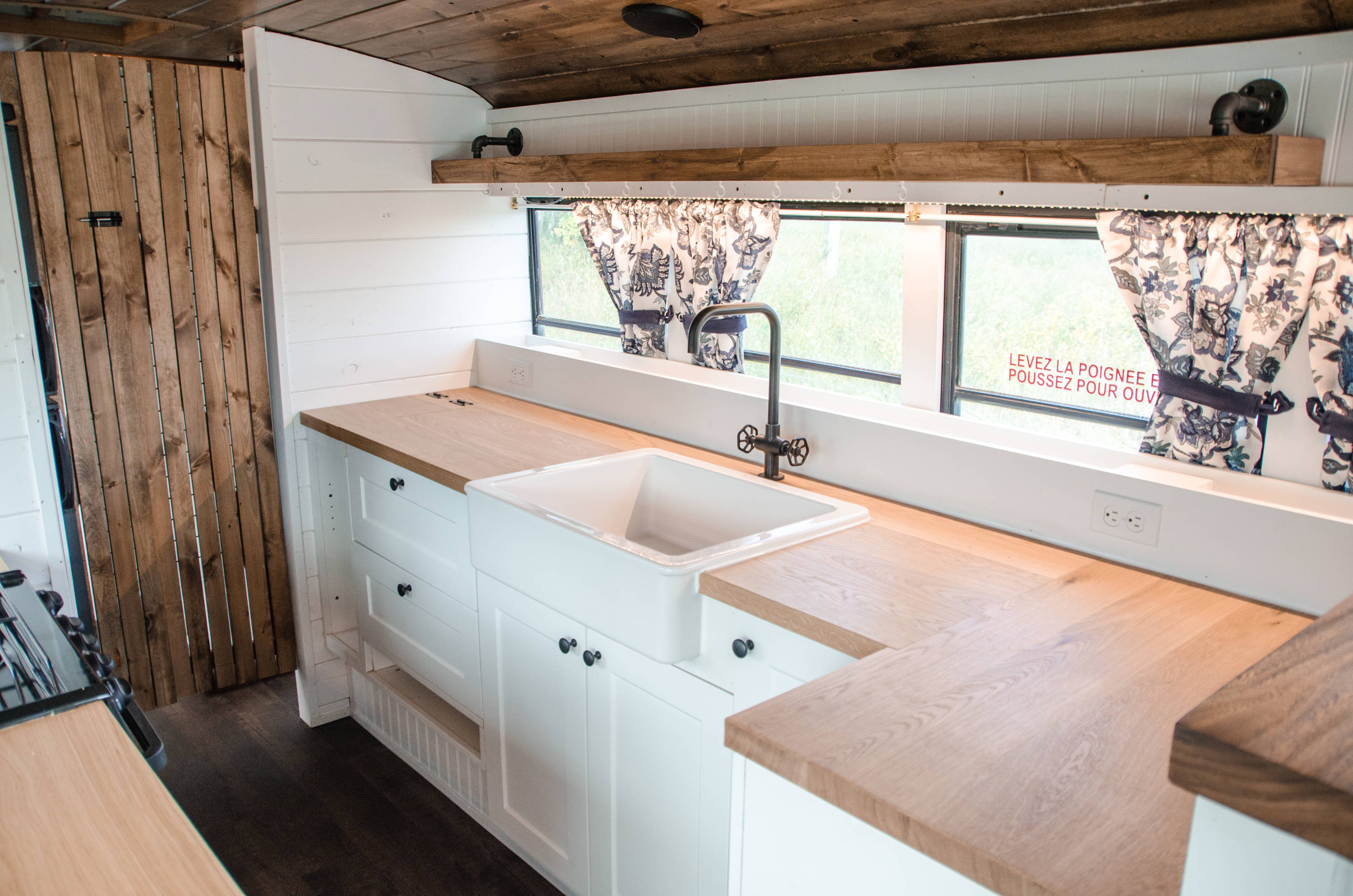 With Christian being a recognized Toronto Firefighter, we wanted to tie in his profession with the matte black hydrant style faucet. Then there's the ceramic apron sink... who doesn't love an apron sink.
The fullsize fridge is produced by Dometic and is powered by standard shore power or propane gas, allowing full off-grid capability. The oven is a 21" propane oven and cooktop.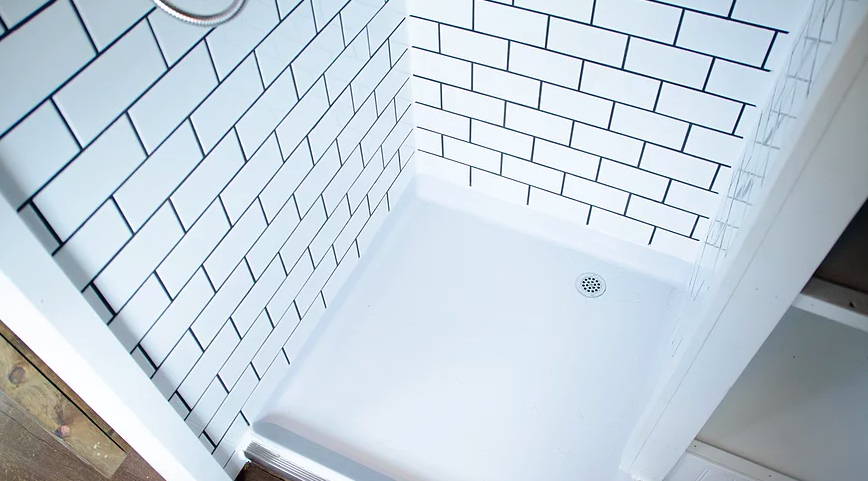 The bathroom features a full walk in shower wrapped in 3x6 white ceramic subway tiles. The black grout pops and creates a bold look.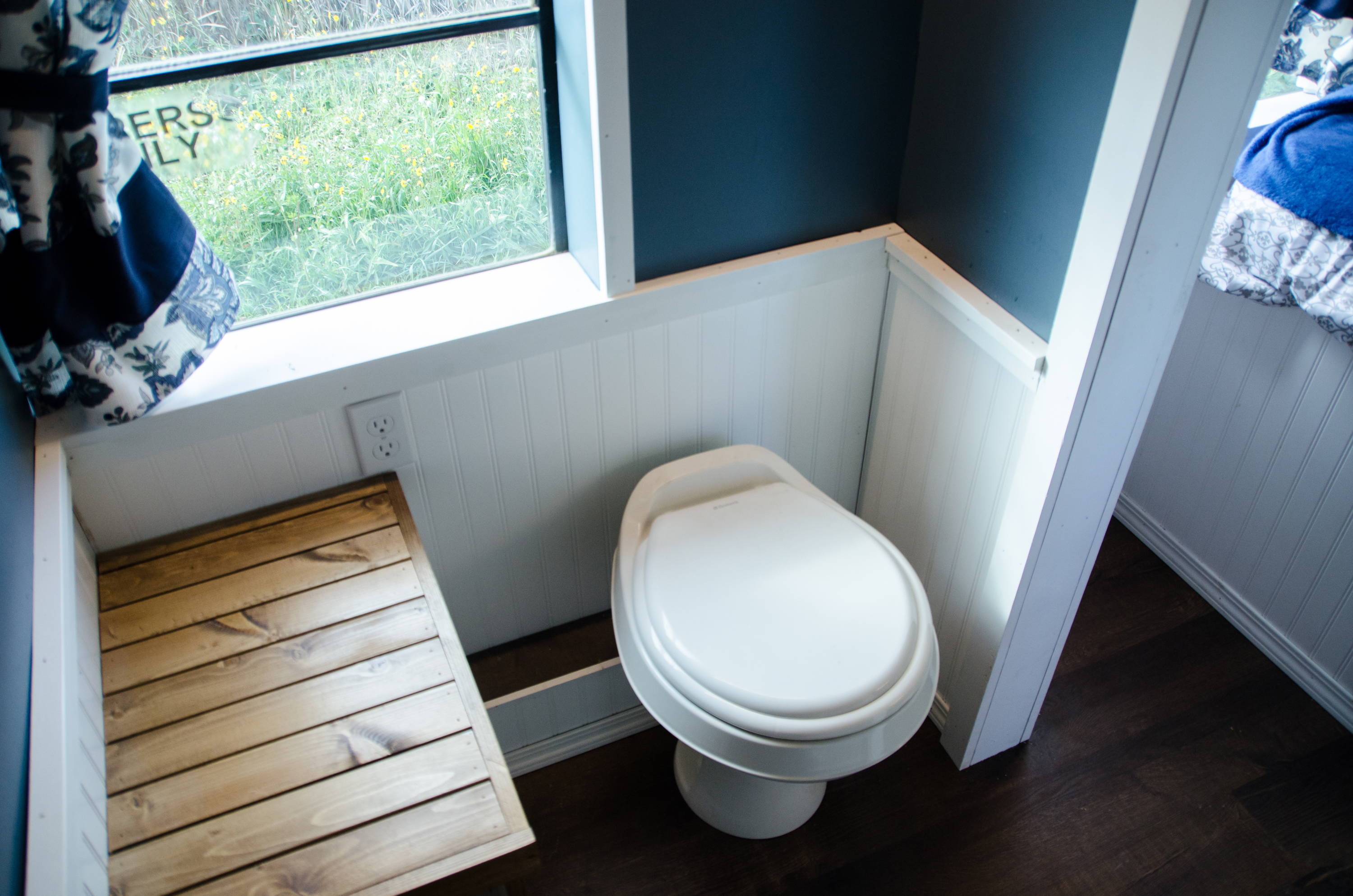 Immediately across from the shower is storage, a window, and RV flush toilet.
We normally go with the Naturehead Composting toilet, but this build could be used a fulltime home on a beautiful piece of land.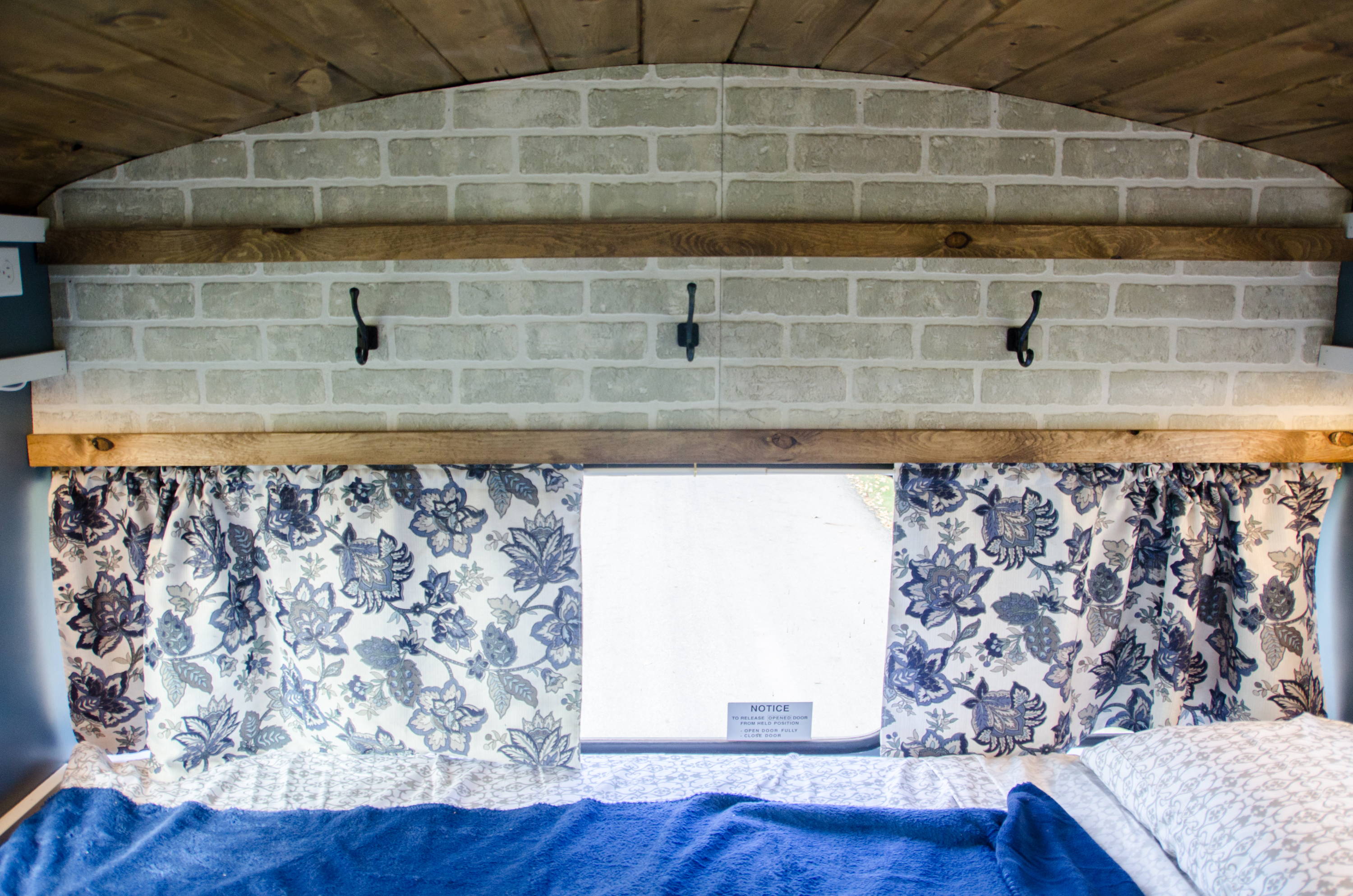 The bedroom features a queen size bed, hiding all the RV utilities like fresh water tank, battery bank, and hot water heater. Who would like to wake up in this bedroom with full surround windows!